PayPal is another payment option available for our members. This option is currently available in the following countries: Brazil, China, Colombia, Denmark, Spain, Finland, India, Mexico, Norway, Sweden, Venezuela, Australia, Greece, Japan, the Republic of Korea, Netherlands, New Zealand, Poland, Switzerland, Germany, France, Italy, Canada, United States of America, Uruguay, United Kingdom, Saudi Arabia, Peru, Panama, Nicaragua, Honduras, Guatemala, El Salvador, Ecuador, Costa Rica, and Argentina.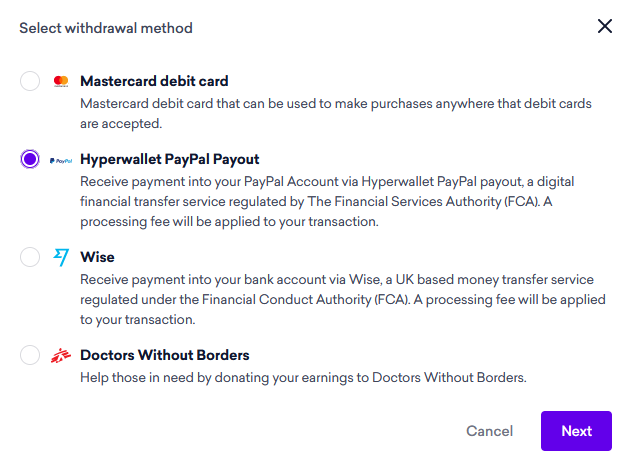 When choosing Hyperwallet PayPal payout as your payment option, you will be asked to provide your PayPal email address. Payment will then be transferred and you will receive notification from PayPal advising you that payment has been made into your PayPal account.
Important Notes:
1. The email address associated with your Sermo member account must match the email address of your PayPal account. If your PayPal email address is different than your Sermo account email address, your withdrawal will be put on hold by PayPal due to suspicious activity.
2. Initial payments are accepted from Hyperwallet, but must also be accepted from your PayPal account as well.
Fees: A processing fee will be charged for each transaction and will be shown at the moment of withdrawal. The fee changes depending on the currency exchange rate but it shouldn't exceed USD 0.50.
Timelines: payments are usually processed within 1-5 days. Please note that in case the information requested by Hyperwallet isn't provided within 5 days, the transaction will be canceled and the funds will be reversed into your Sermo Balance.
Below is an example of the confirmation message shown before submitting a withdrawal: